How do I book a visit?
Once you've found the right person, you can book visits instantly. It's easy to organise their visits online and keep track of their activities.
There are a couple of places you can book visits from:
Click on the "Book" button next to your workers name and picture on your Dashboard to schedule visits with your chosen worker. You'll find this on the right hand side.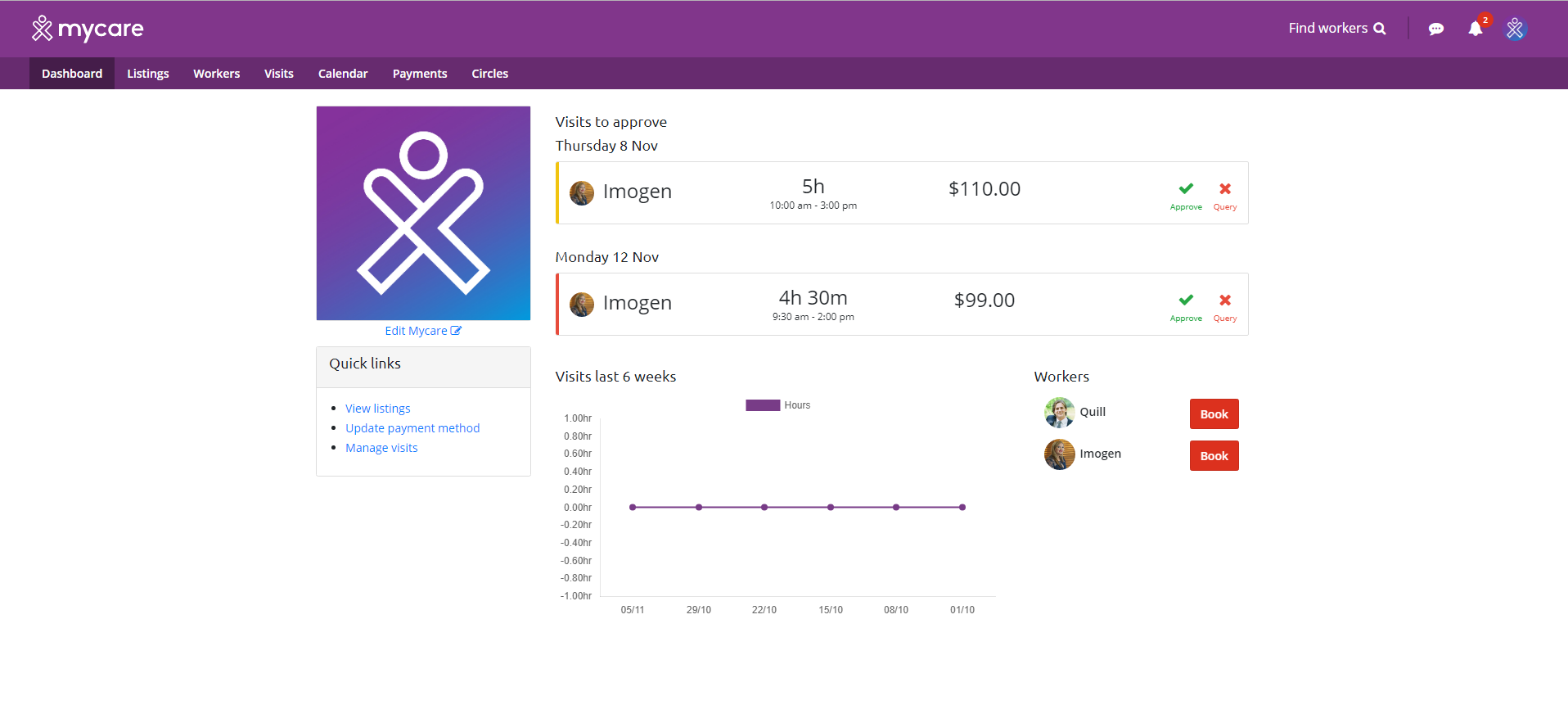 You can also find a list of your workers and applicants under the "Workers" tab at the top of the page.



When you book the first visit with your worker, you'll need to enter the agreed fixed rate or hourly rate. You may have multiple rates agreed with your worker, e.g. an hourly rate for day time visits and a fixed rate for overnight visits. You can select different agreement rates each time you book your worker and also create new ones.

Choose the day and time you'd like them to work – we'll calculate the cost of your visit and debit your securely stored payment method as you book the visit.

When you book visits for your workers you can choose whether you want to pay travel expenses. You select the amount of kilometres that you would like to pay up to.
When the worker submits their visit they put in their travel expenses. If this is under or up to the amount you selected, the visit will be automatically approved with 24 hours. If it is over the amount you will receive a notification to review the visit.
You can also allow you worker to claim other expenses - Please note that the expenses feature is temporarily unavailable for those using Enabling Good lives and Individualised Funding. Expenses are those costs that your worker may incur when completing tasks or errands for you, and that you would like to reimburse them for.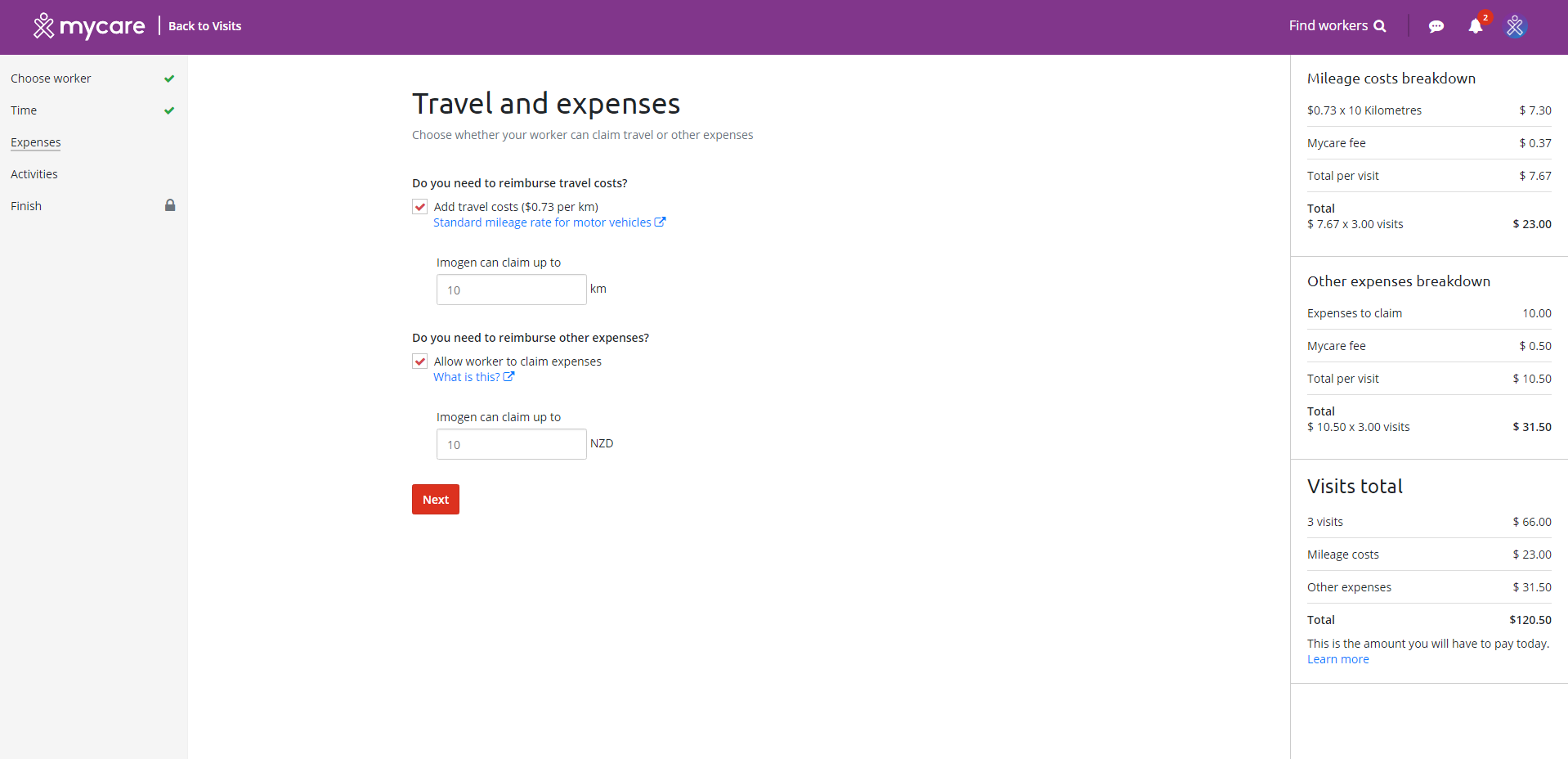 You can assign tasks or activities for your worker to check off, and add a note about the visit. E.g. "It would be great if you could take the dog on your walk with Janey today."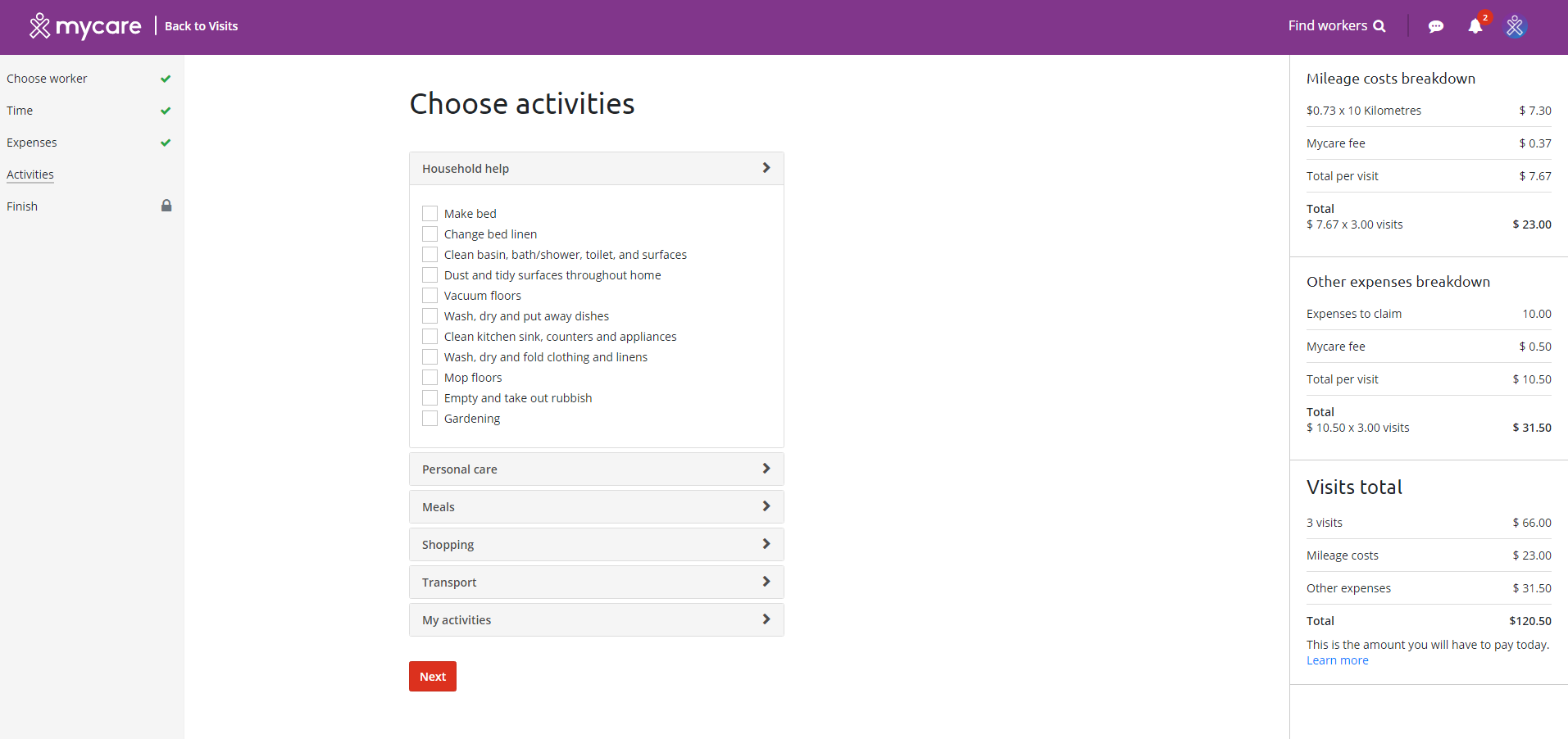 If it's the first time you're booking a worker, the agreement is made as you book your first visit and the final step will be to send the agreement to your worker.
Why do I need an agreement?
Mycare is a contracting platform. All workers at Mycare are contractors.
Having an agreement with your worker through Mycare means:
You can book your worker's visits through Mycare, assign their activities for the day and keep your support circle of friends and family in the loop
You'll be able to see all your visits at a glance and know what's happening every week
It's easy for you to pay your worker on time, every week
Mycare will deduct tax (voluntary schedular payments) on behalf of your worker and make sure it's paid to the IRD
For each hour of work that you pay your worker through Mycare, they'll be insured with Vero Liability for up to $1,000,000 of public liability & professional indemnity cover.

You'll see all booked and completed visits for the week on the visit page, calendar page and dashboard.
How do I cancel or reschedule a visit?
Your booked visits can be edited or removed by selecting the clock and rubbish bin icons on any visit you'd like to change. We encourage you to operate in good faith and always provide at least 24 hours notice of a visit being cancelled.

Where is my payment history?
You can locate your transactions and payment details under the Payments section of your account. You can see the payment history, update your credit card details and check your balance.
Need help or have questions? Contact the Customer Engagement team on 0800 677 700 or by email at hello@mycare.co.nz