Workers can be rated and reviewed at Mycare based on clients' experience when dealing or working with them. Ratings and reviews are provided to facilitate trust and safety between members of the Mycare community, and to help other members decide whether they would like to get in touch with a particular worker. The review section can be found at the bottom of each worker's profile. 
How do reviews work?
There are two ways in which a client can rate and review a worker. A worker can be rated based on their professionalism, how supportive they are, whether they're trustworthy and friendly, and whether the client would recommend them. This feedback will remain anonymous.
A client can also tell the Mycare community about their personal experience of having a worker provide care and support for them. If a client chooses to leave a written review, their first name will be displayed.
How can a worker get a client to leave a review?
A worker can ask a client to leave a review at any time. Mycare encourages clients to leave a review by sending them an invitation to do so 30 days after a worker has been hired. If they do not post a review at this time, Mycare will periodically send an invitation via email.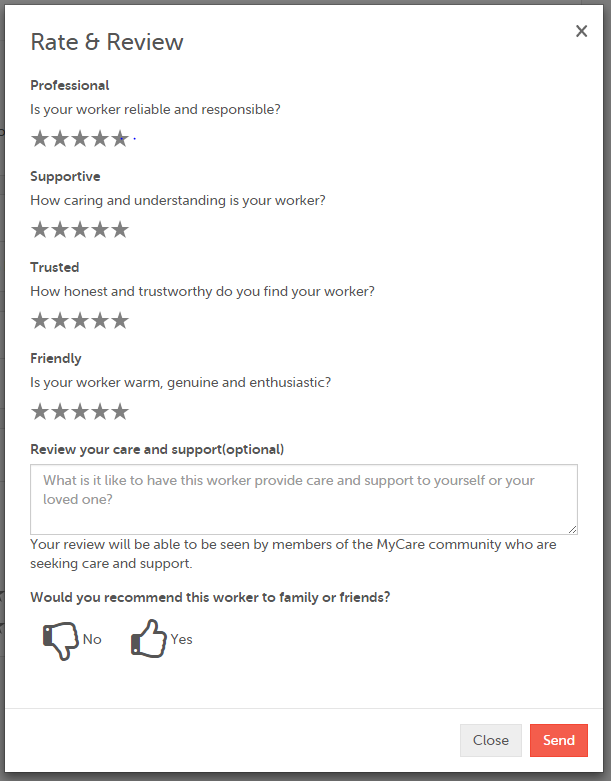 When can I leave a review?
A client can rate or review a worker at any stage. The review will be published immediately. You can edit and update a review for a worker as often as you like. All you need to do is click the "Review" button on the worker's profile, which will take you through to the review you previously created.
What should I say in a review?
Mycare believes in open, clear, honest and transparent communication. When creating a review, we ask you to stick to the facts. The best reviews provide constructive information that helps the community to make better decisions.
Mycare opts not to edit, censor or delete reviews, however we reserve the right to remove or edit a review if:
It does not represent a user's personal experience
It contains swear words or other offensive or inappropriate content
It contains defamatory statements
It contains a user's personal information, contact details or other individual identifiers. 
 Want to rate a worker and leave a review? Click here to login in to your Mycare profile.