Fonofale was created as a Pacific model of health, encompassing values and beliefs from the Cook Islands, Samoa, Fiji, Tonga, Niue and Tokelau. A Samoan 'fale' is a traditional house and the image of a house, its foundation, walls and ceiling are used to represent the constructs of holistic health.
A culturally competent worker will understand the cultural needs of their client. When working with a client who identifies with Pacifica culture best practice involves understanding the importance of the relationships and interconnectedness of the Fonofale health and wellbeing constructs.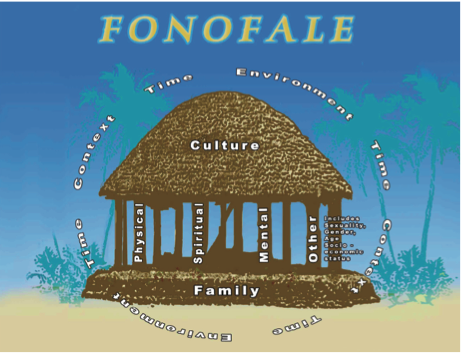 The Foundation
The foundation represents family. This includes all extended family.
The Pou
The four posts connect the family and culture and are interdependent;
Physical relates to physical wellbeing.
Spiritual relates to a individuals sense of wellbeing. This dimension also includes traditional elements such as connectedness to nature, language, history, family traditions, tales, religion and other spiritual beliefs.
Mental relates to an individual's state of mind. This dimension relates to an individual's cognitive abilities, how they think, how they express emotions, how they behave.
Other relates to any other construct that has a direct or indirect effect on an individual's health and wellbeing. For example, gender, sexuality, age, socio-economic status, education, employment etc.
The Roof
The roof is the shelter provided by identifying with culture. The cultures beliefs, traditions, norms etc. shelter the individual's and protect their health and wellbeing.
The Cocoon
The cocoon encasing and protecting the fale includes three interrelated dimensions that affect an individual's health and wellbeing.
The actual or specific time in history that impacts on Pacific people.
The relationships between the Pacific peoples and their environment – rural, urban etc.
The where, what and how. Includes factors like socio-economic situation, geographic location, decade, political systems etc. The 'big' picture