Reaching out can help you maintain your independence and leave rest homes to the rest.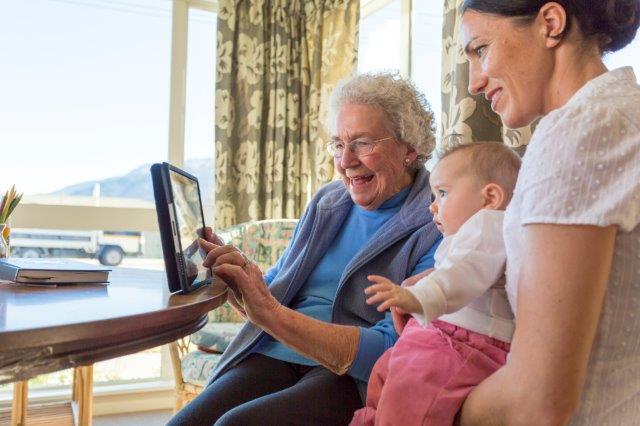 Technology and home care workers may not sound like related subjects, but in fact, they're two key things that can help keep seniors living happily in their own homes for longer.
Get connected
You might not consider yourself particularly technologically savvy, but smartphones and computers open you up to a world of possibility. One new smartphone app can increase your safety when you're out and about. The Medical ID section of the iPhone's new Health app lets anyone access your medical information and call your emergency contacts in a crisis, even if you phone is locked (to enable this, ensure you have 'Show When Locked' turned on). Simply type in the important details, pop it in your pocket and go.
Your phone or computer can also be a boon for 'meeting' new people. Connecting with people with similar interests online can help stave off the feelings of isolation and loneliness that can creep in if you're living alone or unable to leave the house as often you once were. And don't underestimate the power of brain-training apps and video games. Video games have even been shown to stimulate the growth of neurons in areas of the brain responsible for spatial orientation, memory formation, strategic planning and fine motor skills.
If you feel a little lacking in the IT skills department, contact your local Citizens Advice Bureau or Age Concern to ask about courses. Or you might like to try a service such as Geeks on Wheels, whose mobile technicians can visit your home to help with IT issues.
There are ways to get around sight or hearing problems too, such as enlarging the text on your screen or using voice control. You may also be able to connect your hearing aid wirelessly to your phone. Google for how-to guides or ask your doctor about your options.
Hire a helper
The practical benefits of hiring a care worker to support you with your daily tasks are innumerable. From someone to keep you company for a few hours a week or drive you to the supermarket, to a highly qualified professional to provide live-in support, there are all kinds of workers for all kinds of needs.
Mycare knows what a difference helping hands can make in maintaining people's independence and is designed to make finding that special someone as easy as pie, with access to a range of local care workers carefully vetted using our Trust & Safety steps. It can be a more financially affordable option too, with care workers specifying their expected pay range – just choose the workers who suit.
And you won't need any training for this one! Mycare's website is a breeze to navigate: it lets you advertise what you need and browse the profiles of caregivers in your area at your convenience. When you find a person who meets your criteria, simply contact them using our messaging system. MyCare puts you in control, but if you need more information or support at any stage in the process, just call the Customer Engagement Team on 09 887 9777, or email hello@mycare.co.nz.