One of the things that people using Mycare have been asking for is the ability to pay your workers for expenses like mileage, and things like the bottle of milk they pick up on their way to your place.
We are pleased to announce the launch of our mileage and expense claim features.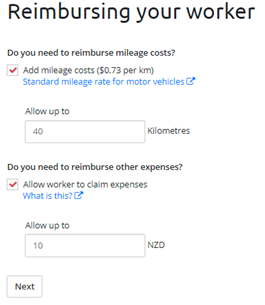 What are expenses?
Expenses are those costs that your worker may incur when completing tasks or errands for you, and that you would like to reimburse them for.
This can include things like paying for groceries, picking up milk or paying for lunch, travel or activities when they are out and about providing support. You can now choose to pay expenses and, budget and reimburse them for these types of expenses when you book their visits.
How do I pay expenses?
When you book visits for your workers you can choose whether you want to pay expenses. You select the dollar amount of expenses that you would like to pay up to.
When the worker submits their visit they put in their expenses. If this is under or up to the amount you selected, the visit will be automatically approved with 24 hours. If it is over the amount you will receive a notification to review the visit.
For example: your worker might be taking your child to the zoo as part of a respite visit and you want to pay them for tickets for the zoo and lunch while they are there.  You don't know how much it is. You can estimate the amount you think - let's pick $50 as the total amount. On the day the worker pays $47.50 for the tickets and lunch. They submit their visit and enter $47.50 as the expense amount they are claiming. This under the amount you selected so the visit will be automatically approved in 24 hours or you can log in and submit the visit anytime before then.
What if I want to pay travel costs?
There will also be occasions where a worker uses their own car when providing support. You may like to reimburse them for this. You can find out more about paying and claiming mileage here.
How much does it cost? 
Expenses paid to a worker are not taxed. Mycare charges a 5% service fee to the person paying expenses to cover administration costs.
Want some help, or need some advice about travel expenses. The Customer Success team are available to help on 0800 677 700 or email Mycare at hello@mycare.co.nz